Rihanna Viva Glam 2 Makeup Tutorial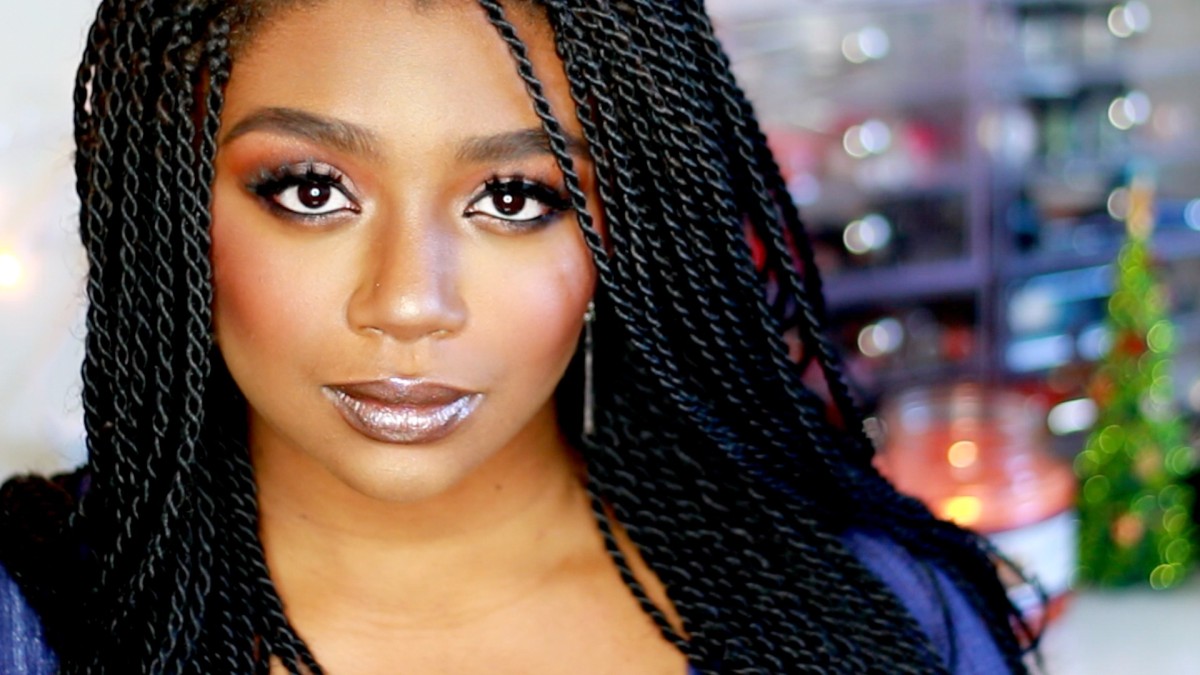 Hey guys! I am so excited for winter 🙂 for some reason winter just does it for me.  The rich lipstick shades, gorgeous boots, and stylish layers have always been up my alley.  I have to admit that being a New England girl probably plays a huge part in it all, but I had to share this love with you! To kick off the winter I decided to show you how I would pair the Rihanna Viva Glam 2 lipstick with a super easy eye look using a palette most people own, the LORAC Pro Palette.
I too, like many, was iffy about the Rihanna Viva Glam 2 lipstick, but once I found the perfect eye look I am in loveee.  Keep scrolling to see the products I used, as well as the makeup tutorial for my Rihanna Viva Glam 2 look!
Face
Ben Nye Banana Powder, HERE
MAC MSF Natural, Sunpower, HERE
Kevyn Aucoin Sensual Skin Enhancer, S12, HERE
Sephora Jumbo Liner 12Hour Wear Water Proof, Dark Brown Matte, HERE
Beauty Blender, HERE
Dream Wonder Fluid-Touch Foundation, Coconut, HERE
Lancome Visionnaire 1 Minute Blur, HERE
Kevyn Aucoin Sensual Skin Enhancer, S12
Sephora Cream Contour Blush, Flashy Fuschia, HERE (formerely "Fuschia Flash")
Physicians Formula Shimmer Strips Custom All-in-1 Nude Palette for Face, Warm Nude, HERE (as highlighter)
Eyes
MAC Eyeshadow, Brown Script, HERE
MUFE Aqua Matic, S-52, HERE (Satiny, flesh colored pink)
LORAC Pro Palette, Sable, Deep Purple, Pewter, HERE
MAKE UP FOR EVER Artist Liner, Matte Black, HERE
NYC Color Liquid Liner, Black
Anastasia Beverly Hills Dip Brow Pomade, Ebony, HERE
Koko Lashes, Risque, HERE
Lips
MAC Lip Liner, Nightmoth, HERE
MAC Viva Glam Lipstick, Rihanna Viva Glam 2, HERE
MAC Viva Glam Tinted Lipglass, Rihanna Viva Glam 2, HERE
Brushes
SIGMA
Sigma, Precision Brush Set, HERE
Sigma, Essentials Kit, HERE
Sigma, Performance Eyes Kit, HERE
Sigma, E60, HERE
Sigma, F35, HERE
TWEEZERMAN
Tweezerman Brush iQ, Finishing Contour, HERE
Tweezerman Brush iQ, Blender, HERE
BDELLIUM TOOLS
Bdellium Tools, Eye Kit, HERE
Watch the Makeup Tutorial
Shop the Look!