Beyonce Mine Music Video
Please tell me you got the Beyonce album! At least saw some previews of the video? Photos?! Well if you are a makeup lover like I am, this album is definitely work checking out for some MAJOR inspiration.  There are tons of photos on google of looks from the album, and I have to say that the makeup is absolutely exquisite.  Beyonce is one of those artists who I feel takes the natural side of glam more often than not, but this time around she really does it up with some very edgy looks, taking more makeup risks in a single album than many will take in well…a lifetime.  She does everything from a barenaked face to this blue teal look.  From a fierce cateye fit for the runways, to a high glam 20s inspired gunmetal smokey eye paired with a glossy oxblood lip.  Needless to say I was in makeup inspo paradise watching the music videos from the Beyonce album.
Beyonce "Mine" Music Video Look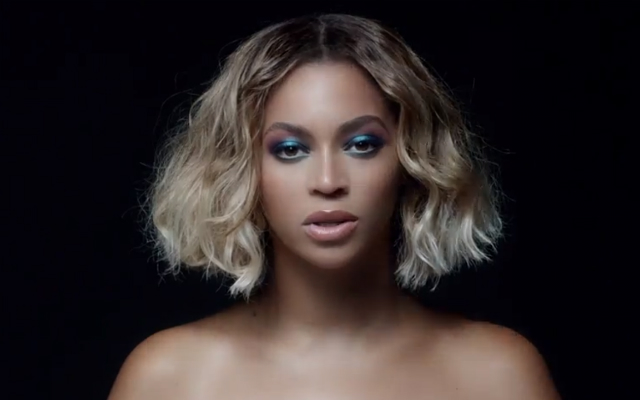 Here is a still from the video that inspired my tutorial.  I was talking to my baby sis, she's actually a teenager aha, and she was telling me that I should try to do tutorials with products that are more accessible.  So here it is! Thanks baby sis! I really wanted this look to be as easy to recreate as possible, so I searched and searched and found the perfect palette and I found it: The Maybelline "Sapphire Siren" palette.  It is sold in nearly any and every drugstore, and it is super affordable.  It is even cheaper if you get it from Walmart!  I hope you all enjoy this look, and feel free to comment down below with an other looks you would like to see from the Beyonce album.  I plan to do a lot more, so be sure to stay updated!
I have received some questions about how to alter this look for different skintones.  Using lighter shades works well to adapt the look, or using warmer colors could help as well.  I plan to do a similar look that will be more universal, so be sure to stay tuned for that!
Here is a list of everything I used:

Face
L'Oreal True Match Concealer Crayon, Medium/Deep N6-7-8
Ben Nye Banana Powder
MAC Bronzer, Sun Power
LORAC Pro Palette, Espresso
LORAC Unzipped Palette, Unbridled
Bobbi Brown Skin Foundation, Warm Almond 6.5
NYX Blush, Cinnamon
Eyes
Maybelline Eyestudio Palette, Sapphire Siren
Maybelline Stiletto Liquid Liner, Black
L'Oreal Telescopic "Shocking Extensions," Black
MAC Eyeshadow, Brown Script
BH Cosmetics "Take Me to Brazil" Palette, #7
LORAC, Behind the Scenes Primer
Wet'n'Wild Color Icon Eye Pencil, White
Lips
MAC, Double Shot
Smashbox Lip Enhancing Gloss, Illume
Brushes
Beyonce Mine  Video Tutorial